A Teacher's Touch: Reaching Beyond Boundaries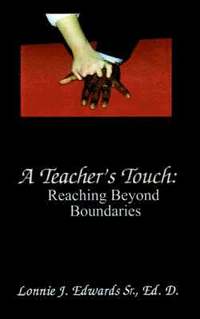 In 1996, Dr. Lonnie J. Edwards Sr. was featured on the Sally Jessy Raphael Show for making a significant difference in a former student's life that was born with a physical disability. Nancy Johnson Miller was born with little vestiges of fingers, mostly little "nubs" and kept them hidden from teachers and students by carrying a towel over her hands at all times. At the time of their initial meeting, Dr. Edwards was a first-year physical education teacher at the school where Ms. Miller was a 5th grade student. According to Ms. Miller, Dr. Edwards was instrumental in enabling her to move past her disability by accepting it and by being confident in using and/or developing the talents that God did give her. For this reason, she wrote the Sally Jessy Raphael Show, stating that she wanted to thank him on national television for changing her life.
As a result of his impact on this student's life, Dr. Edwards wrote a book entitled, A Teacher's Touch: Reaching Beyond Boundaries. He was also featured in the "Heroes for Today" section of the September 1997 issue of the Reader's Digest. And, out of the Sally Show reunion, more than twenty-five years after their initial interaction, the Edwards-Miller Foundation for Physical Disabilities, Inc. was created to provide scholarships for physically and/or mentally challenged individuals to pursue a college education. Dr. Edwards served as the Chairman of the Board of Directors for the foundation which, from 1997 to 2009, assisted twenty individuals to attend colleges nationwide and to pursue their dreams.
"Great story of a man who was in a time or era of racial tension. And yet his character and His love for teaching and his students, were more important than his own well-being."
"The unlikely chance of these two lives crossing paths is what makes this story so enthralling. Though in a different way than Nancy, Lonnie Edwards had had to reach beyond the limitations or boundaries that he had been dealt. He was born a black boy in Mississippi with cotton to pick and crops to harvest which kept him from even being allowed to go to school during harvest time and he certainly couldn't change that, but someone encouraged him to have courage and press pass the limitations that society dictated as doom. I imagine that for him, remembering the challenges that he had overcome was the fuel that compelled him to encourage Nancy through what must have seemed like the most unfair situation that a little girl could be in. This book is a must-read for teachers, students and any one wishes to be inspired or who has a desire to inspire."
"A Teacher's Touch is recommended reading for new and aspiring teachers. It is a memoir of the first black male teacher to work in a newly desegregated school in Dekalb County, Georgia. It chronicles the extreme initial resistance to him from the school's administration and faculty. Through personal competence and perseverance, the author gradually overcame this resistance and gained the support of all. The story is centered particularly around the positive difference he made in the life of a young girl who had been born without fingers on one hand. Their story has been told on Sally Jessy-Raphael's show and a contract has just been signed with Showtime for a movie based on this story. The author does an excellent job of pointing out important professional attitudes and tools and how best to use them. This book will increase professional knowledge. We gave it a solid three hearts."
Thank You For Changing My Life
Former Student Reunited with Dr. Edwards on the Sally Jessy Raphael Show